A treatment makes a unique and perfect gift for a birthday, an anniversary, mother's day, mum-to-be, new mother or as a thank you, to show someone special that you really care.
Paper Gift Vouchers can be collected from me or sent by post to yourself or directly to the recipient. They come with a white or gold envelope and can be purchased for the value of £40, £80, £120 to spend towards any treatment (these are equivalent to value of one, two or three treatments of reflexology of 45 minutes). The receiver can also use it towards a 30 minutes Reflexology treatment, which worth £32, or towards a 30 minutes Indian Head Massage, which worth £28, and the remaining balance can be used afterwards (see full Terms and Conditions).
Payment by cash or card for paper Gift Voucher collected from me and through PayPal if sent to you by mail (plus shipping fees).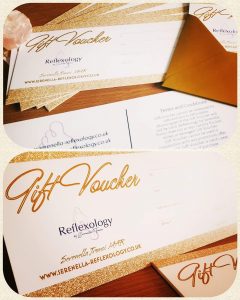 Select your favourite E-Gift Voucher thought for every occasion.
If you don't find the E-Gift Voucher you had in mind, just contact me and I will create a Bespoke E-Gift Voucher for free.
E-Gift Vouchers are downloadable Gift Vouchers which can be sent to your inbox or the recipient's inbox. Payment through PayPal.
T&C's apply.
* Cash payment is not possible. The terms and conditions apply.
Voucher Preview
Please click the Privacy Policy checkbox before paying. If checkbox is not displayed on your device, just click directly on any part of the requesting sentence.
Make sure the Gift Voucher's receiver lives in the area I cover before purchasing any Gift Voucher. 
Thank you